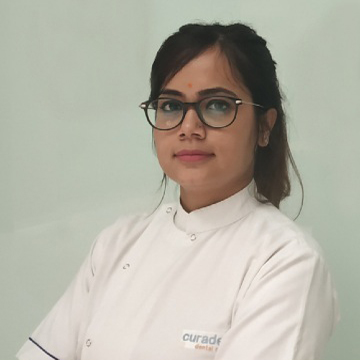 Dr. Nikita Thakur has completed her BDS from Rajiv Gandhi University of Health Sciences, Bangalore. Following that she pursued MDS in Endodontics, Restorative and Cosmetic Dentistry fromPt. Deendayal Upadhyay Memorial Health Sciences and Ayush University, Chhattisgarh.
Her list of expertise includes Root Canal Treatments,Direct and Indirect Restorations, Pulp Therapy, Veneers, Bleaching, Post & Core and Endodontic surgeries. She keeps herself updated and experienced with innovations and technological advances in her field. Her aim remains to benefit her patients with painless, fast and comprehensive treatment plans. Laser Assisted Pulpal treatment with Root Canals and Laminates are the latest modern techniques that are her speciality.
Dr. Nikita believes that a perfect smile and a pain-free oral cavity affects the overall personality, self-confidence and mental health of an individual. This inspired her to pursue Aesthetic/Cosmetic Dentistry in depth.
She is well aware about the requirement of proper dental care services among the underprivileged section of our society. She tries her best to extend her services to them by participating in numerous Dental Camps. She contributes her services at every chance to the Tribal communities of Chhattisgarh, her hometown.
When you visit her, expect to be greeted with a warm smile and to be treated with care and compassion.